Marconi Shield Model Yacht Race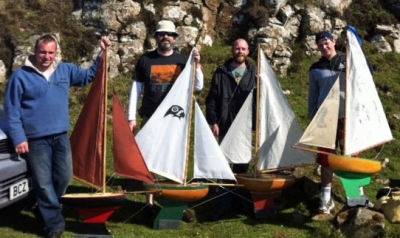 The four racers: Fergus, Stephen, Brian and Connor
Tuesday 8 May 2012
There was beautiful weather, but a smaller than usual turnout for the Marconi Shield, held last Sunday 6 May.
Work commitments kept the field down to four, and the wind was changeable from the off. The lead changed several times over the first leg of the race, but the eventual winners were Stephen Ryan and Jessica Bates, winning their first race with their new(ish!) boat Pocaire Gaoithe.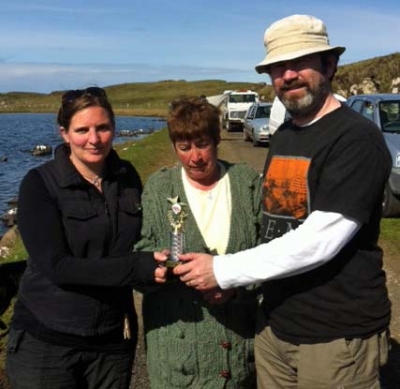 Marina McMullan presents first prize to Jessica Bates & Stephen Ryan
Second place went to Fergus McFaul who recovered extremely well from a poor start.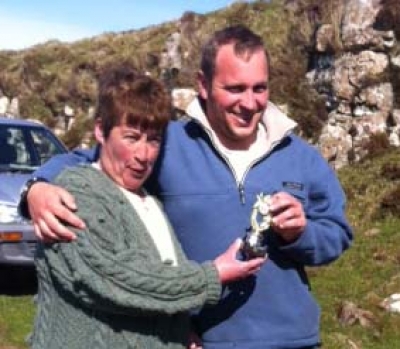 Marina McMullan presents second prize to Fergus McFaul
Brian Teggart came third. This leaves the standings after just two races as:
Fergus: 5 points (2 points Marconi Shield + 3 points Alley Cup)
Stephen: 3 points (3 points Marconi Shield)
Brian: 2 points (1 point Marconi Shield + 1 point Alley Cup)
Daniel: 2 points (2 points Alley Cup)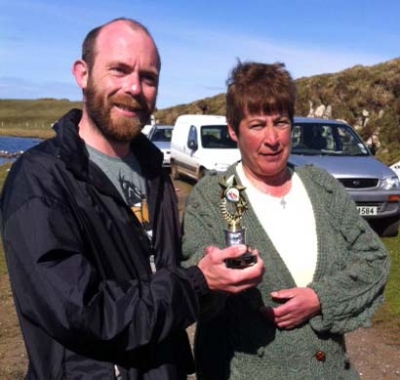 Marina McMullan presents third prize to Brian Teggart
Thanks once again to Marina for everything, and to everyone who helped and all those who came along. The next race is the Coleraine Cup on Sunday 27 May, this time at 6.00.