Home
Take a look, you
might want to come
and stay awhile...
COVID-19 LOCKDOWN UPDATES
(Posted 03/07/2020. Last updated 14/06/2021.)
*** As Rathlin emerges from lockdown and more and more island businesses reopen, please read the information below to help plan your visit. We will update this page further whenever we have more details to share. ***
*** In the meantime, #StaySafe and welcome back!. ***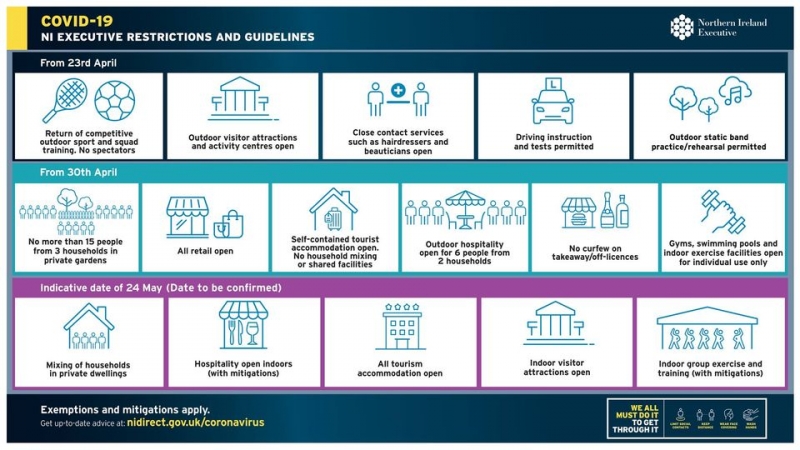 To book sailings, please ring Rathlin Island Ferry Ltd (RIFL) on
028 2076 9299, or email them at: info@rathlinballycastleferry.com.
For full detail on ferry arrangements please go to the RIFL website. As we get into the summer, many sailings are now booked up completely well in advance - check the RIFL website for regular updates on availability.
"Bookings must be made directly via the ferry office at least 30 minutes before sailing time. Our office remains closed to the public. Face coverings must be worn for the duration of the crossing unless you are exempt from wearing one. Passengers should adhere to social distancing guidelines and follow crew instructions at all times. For information regarding opening of island businesses please contact each one directly, contact details can be found on the Rathlin community website: http://www.rathlincommunity.org/ Please do not travel if you are experiencing any Covid related symptoms. RIFL continue to operate a ticketless service to help reduce contact between passengers and our staff. To secure your booking you will be asked to provide card payments details. You will check-in for your sailing with crew by giving your name. Passengers will not be boarded until 10 minutes before departure. RIFL are being proactive and collecting information to share with the relevant Public Health Authorities should there be a case of Covid-19. At the time of booking you will be asked for your Full Name and Phone number, if you are travelling as a family or group of more than 1 person you will be asked to provide a Lead Person's Name and Contact Number. When you provide our staff with these details, you are actively giving your permission for these details to be shared with a third-party organisation to the help track and trace the virus. Failure to provide these details will result in your booking being rejected."
RIFL is operating a reduced timetable with reduced capacity to facilitate 1 Metre social distancing (see updated timetable and capacities below), which is at the discretion of the operator.
THE 2021 SUMMER TIMETABLE CAME INTO EFFECT ON SATURDAY 29TH MAY.
TIMETABLE (A) (Sat 29th May – Wed 30th Jun / Wed 1st Sep – Thu 30th Sep)
Dep Rathlin / Dep Ballycastle
*08.00 RE / *08.30 RE
08.30 SOR / 10.00 SOR
10.00 RE / 11:00 RE
11.00 SOR / 12.00 SOR
12.00 RE / 13:00 RE
15.00 SOR / 16.00 SOR
16.00 RE / 17.00 RE
17:00 SOR / 18.00 SOR
TIMETABLE (B) (Thu 1st Jul – Tue 31st Aug incl.)
Dep Rathlin / Dep Ballycastle
*07.30 RE / *08.00 RE
08:30 RE / 09:00 RE
08.30 SOR / 10.00 SOR
10.00 RE / 11:00 RE
11.00 SOR / 12.00 SOR
12.00 RE / 13:00 RE
15.00 SOR / 16.00 SOR
16.00 RE / 17.00 RE
17:00 SOR / 18.00 SOR
18.00 RE / 18.30 RE
RE: Rathlin Express (Passengers Only - 35 passengers maximum per sailing, 25 mins approx.)
SOR: Spirit Of Rathlin (Passengers & Vehicles - 45 passengers maximum per sailing, 40 mins approx.)
* Mon-Fri only. Pre-booking is mandatory. 30 minutes before sailing is the required minimum notice. All sailings are at the Skipper's discretion. Subject to weather and other conditions. Vehicle restrictions apply. Contact terminal for information. To enable safety procedures to be carried out, passengers must be at the terminal at least 15 minutes before sailing time. Normal Office Opening Hours: Jun & Sep - 08:30 to 18:00, Jul & Aug - 08:30 to 18:30
Capacity per sailing:
RIFL is operating with 1m social distancing policy and the maximum capacity per sailing is detailed below:
RIFL has implemented a new Refund Policy, due to an increasing number of 'no shows' and late cancellations.
~~~~~~~~~~~~~~~~~~~~~~~~~~~~~~~
*** Although Rathlin's ferry service is now reopening to visitors, the Island itself has not yet reopened fully from the lockdown. ***
McCuaig's Bar is now open indoors as well as outdoors, open Monday - Friday from 1pm - 10pm, and Saturday & Sunday from 12pm - 10pm. The Manor House is now open, serving breakfast and dinner to guests only, with a food truck at the front of the house to serve light lunch, tea and coffee opening soon. The Water Shed Café will remain closed for the rest of this season.
The island shop is open, serving takeaway tea and coffee and wraps as well as groceries. Also open is Island Treasures gift shop and post office - now also serving whipped ice creams, and Breakwater Studio. The West Light Seabird Centre is now open, and the buses have started their shuttle service to and from the West Light, picking passengers up from the incoming ferries in the morning. The bicycle hire is now open (advance booking required). The Boathouse Visitor Centre will remain closed.
Much of the island's accommodation has reopened, though some remains closed. Rathlin Island Hostel is open on the basis of lets of the whole building at a time. Druim Apartments is open on a limited basis. The Glamping Pods are open for the season. Rathlin Venture self catering is now also reopened for bookings. Coolnagrock B&B and Soerneog View Hostel will both remain closed for the 2021 season.
The Public Toilets at the harbour are open. The children's playground is also now open.
The harbour's pontoons are now open again to visiting vessels, with some restrictions. See full information here.
From Friday 4th June 2021, the bus companies operating a shuttle service to and from the Seabird Centre are operating to the following timetable:
Departures are from the harbour, mostly from Pier 1 - Rathlin Express (passenger only ferry), except for the 10.55 run, which departs from Pier 2 - Spirit of Rathlin (vehicle and passenger ferry).
Depart Harbour
09.00*
10.55
11.55
12.55
1.55
2.55
3.55
Depart Seabird Centre
11.20
12.20
1.20
2.20
3.20
4.20
* Monday - Friday only
All services are subject to availability and demand. The two companies will generally alternate their service day by day, rather than both being on at the same time. Contact Derek on 078 2887 8915 or Francis on 077 5993 5192 for more information.
*** There is currently nowhere on the island to sit down & have a meal, and while some takeaway food is available from the shop, you might want to bring food with you, until more food options are open again on the island. ***
*** Apart from the bus shelter and the bar, there is nowhere to shelter from the weather so please bring appropriate clothing. ***
*** Please adhere to mask wearing, social distancing, hand washing and other official public health guidance while visiting Rathlin, and keep both yourself and the island community safe and healthy. ***
#WearAMask, #WashYourHands & #StaySafe

~~~~~~~~~~~~~~~~~~~~~~~~~~~~~~~
Hello and welcome to the Rathlin Community website! This is a resource for both the island community and our visitors. We hope to continue to help communication and interaction among the Rathlin community, and with the wider world.
We have lots of information on how to get to the island and what to do when you step ashore. And if you are curious about what life is really like on the island then we can help with that too. It's easy to explore using the links on the left and below, and includes lots of pics and beautiful banner photos. Welcome, and enjoy!