Eating out on Rathlin
* Please read the special arrangements that are in place (see here) for the gradual relaxation of lockdown restrictions on Rathlin and on travel to the island, before planning a visit. Thank you. *
Enjoy a bite to eat while you're visiting Rathlin!

Facebook
The Hungry Seal, an outside catering service, serves fresh local produce to suit all the family with vegetarian and gluten-free options available. Located beside Island Treasures.
Open seven days - Thursdays-Tuesdays: 11.00am-7.00pm, Fridays 11.00am-5.00pm.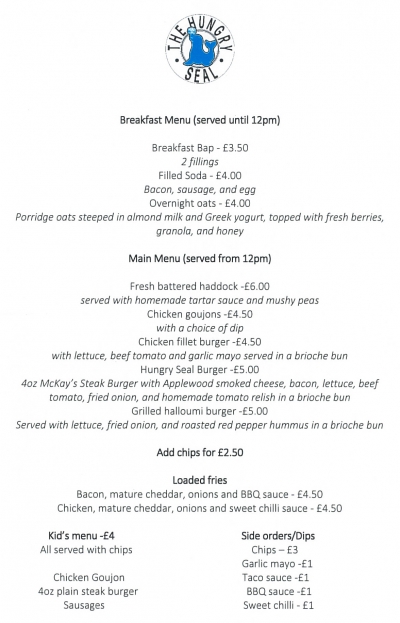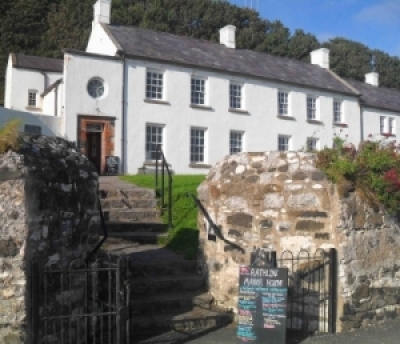 Facebook
Manor House Bed & Breakfast.
"We are excited to be opening this year 1st June 2021! We have made the decision to keep the house for guests only this year given the situation with Covid 19 and as such will only be serving breakfast and dinner to guests. We are however in the process of installing a food truck at the front of the house to serve light lunch, tea and coffee for visitors."
Recently restored and refurbished, The Manor House Rathlin Island is in the jaw-dropping location of Church Bay overlooking the harbour, with stunning panoramic views over the Atlantic Ocean.
Steeped in history, the listed Georgian Manor House built in the 18th Century, comprises a licensed restaurant, eleven guest rooms, and an event space to accommodate forty guests.
Phone: +44 (0) 28 2076 0046
Email: reception@manorhouserathlin.com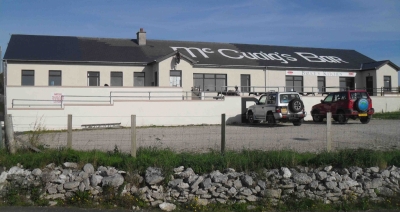 Facebook
*** McCuaig's is now open both indoors and outdoors ***
"Hospitality restrictions remain in place which we will explain during your visit...the B Express App (available for Apple and Android) now gives the option to fill in your Track & Trace details via your phone & is really easy to use.
"As extra bar & floor staff are needed to comply with current regulations for your safety, we remain unable to serve food. Please remember we have strict social distancing measures in place for your protection, hand sanitising points on arrival and in all bathrooms, and a one way system in place."
"We're not taking table bookings and our opening times are:
Monday - Friday from 1pm - 10pm
Saturday & Sunday from 12pm - 10pm.
Please call 028 2076 0011 for information regarding the bar."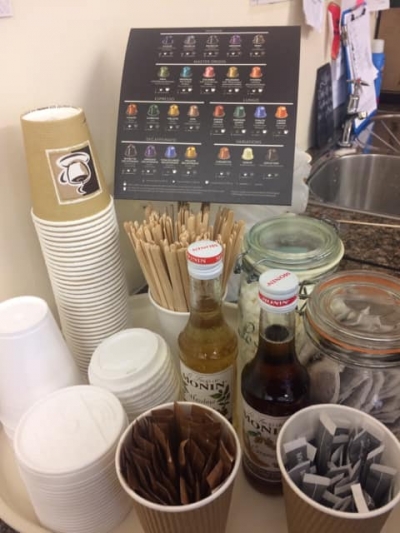 *** New Opening hours: ***
Monday-Saturday: 10.30am-1.00pm & 2.00pm-4.00pm
Sundays: 12.00pm-4.00pm
* Please use hand sanitiser provided when you enter the shop.
* Only 2 people at a time in the shop.
* Only 1 member per household if possible.
* No children if possible.
* Please use baskets instead of leaving items on the counter (baskets are cleaned down after every use)
* We have marked out the floor to help you maintain the 2m distancing rule.
* If you can pay by card please do so.
Take away coffee, tea & hot chocolate, as well as local, freshly made wraps now available in the shop. Bring in your own cup & get 20p off.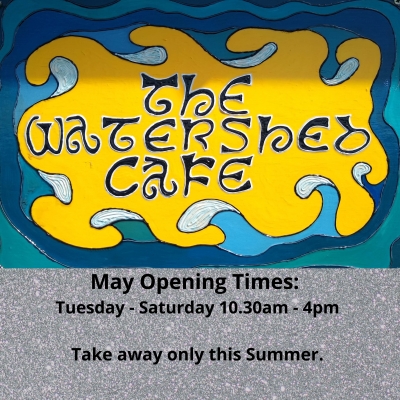 The Water Shed Café has now reopened.
Open Tuesday - Saturday, 10.30am - 4.00pm
Take Away only this Summer.
Home-made scones, sub rolls, soup and wheaten, sweet and savoury crepes, tray bakes and cakes, coffees and teas, hot chocolate, milk shakes, soft drinks and minerals.
Phone: Sarah on 075 1735 4990.
Email: watershedcaferathlin@gmail.com