Information for Visitors
If you are looking for some help with planning your trip to Rathlin then this is the place to be! We can help with travel information, accommodation and eating out. Learn about the Island's history at the Boathouse Visitor centre and get your own Rathlin postmark at the island Post Office!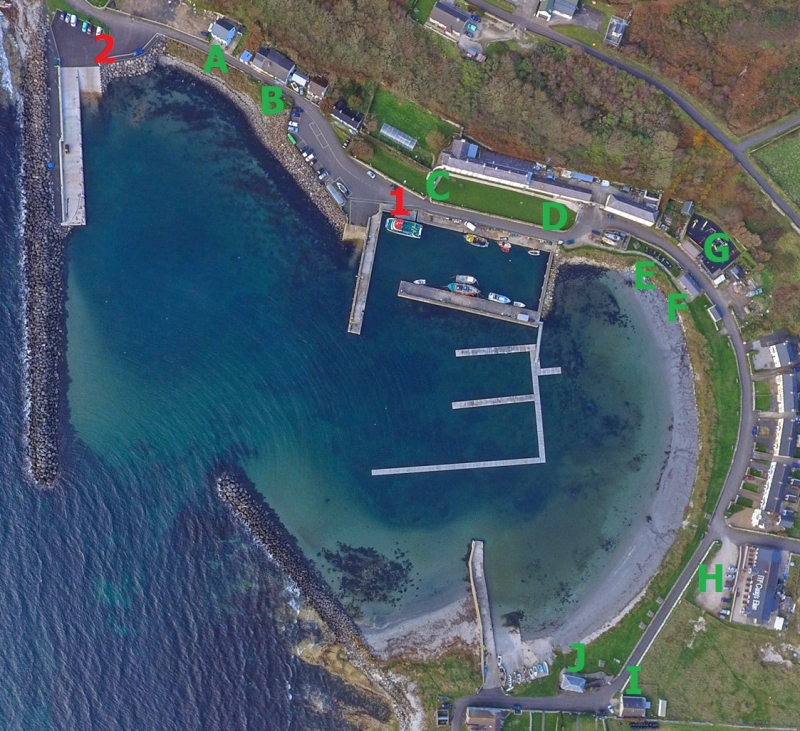 Drone photo of Church Bay by Douglas Cecil.
The Rathlin Development & Community Association has drawn up a code to encourage visitors and residents to be able to have a clean, safe and enjoyable experience of Rathlin Island.
The code is intended to ensure that some of the issues that have caused concern in the past will be addressed, and that island residents and visitors alike can have as enjoyable an experience as possible, during the tourist season and year round as well:
We want Rathlin Island to be a clean, safe and enjoyable place for residents, visitors and wildlife.
Please help us by:

Enjoying the Island and respecting its life and work
Taking your litter home or using the bins provided
Taking care on the roads - drive carefully, cycle on the left, walk on the right
Guarding against all risk of fire
Avoiding damage to walls and fences
Keeping your dogs on a lead
Protecting all domestic animals, wildlife, plants and trees
Respecting the residents' privacy and property
Leaving Rathlin as you found it – or better!
Visiting respectfully
- and you will be welcome!
Money
There is an ATM in McCuaig's Bar (open from 11.00am daily). This machine charges £1.85 per transaction. Money can also be withdrawn on most cards in the Post Office (see opening hours here). Please note that these machines may not accept your card, and that not all island businesses are able to accept card payments, so it is best to bring cash with you on your visit. The nearest ATM to the ferry office in Ballycastle is in the Spar on the seafront.
In the unlikely event of an emergency, simply dial 999 as you would on the mainland. Rathlin is well served for emergency responses, with a resident district nurse, and volunteer Coastguard, Fire Service and First Responder (defibrillator) teams. The Police Service of Northern Ireland will also respond if necessary and can be on the island within 30 minutes. There is also a non-emergency police number: 0845 600 8000.
The nurse's station is in the Tithe Barn (the building housing the Richard Branson Centre to the right of the Manor House, through the arch and on the right), with public hours of 12.00-1.00 and 4.00-5.00, Monday to Friday. Saturdays and Sundays and on Bank Holidays, 12.00-1.00. Outside of these hours please call 078 4149 5875. In case of emergency, call 999 or the Doctor Urgent Care phone line on the mainland: 028 2566 3500.
ICE - In Case of Emergency. If you store the word ICE in your mobile phone address book and against it enter the number of the person you would want to be contacted 'in case of emergency' then, should such a situation occur, the emergency services will be able to contact your named person quickly, on your behalf. For more than one contact person enter ICE1, ICE2, ICE3, etc.
Discover Northern Ireland's Rathlin page, and Causeway Coast & Glens Borough Council's tourism website, and its page for the island, and the Ballycastle Tourist Office's details.
Rathlin is approximately five miles long east-west, and three and a half miles long north-south. The wildlife and scenery are famously excellent, and there are several beautiful walks both on and off-road. Most of the land on the island is privately owned farmland, and there are several off-road walks on publicly accessible land that we encourage you to enjoy! When walking off-road, please be mindful of the Rathlin Code, and also during the summer, please be particular careful of ground-nesting birds.
There are several popular walking routes on the island, showcasing Rathlin's beautiful scenery, and allowing people to get closer to the island's exceptional flora and fauna. Walk NI has an excellent website, with detailed walk guides and maps for Rathlin walks.
Rathlin Trail walk guide.
Roonivoolin Walk guide.
Ballyconagan Trail walk guide.
Kinramer Permissive Path walk guide.
Kebble South walk guide.
Kinramer North walk guide.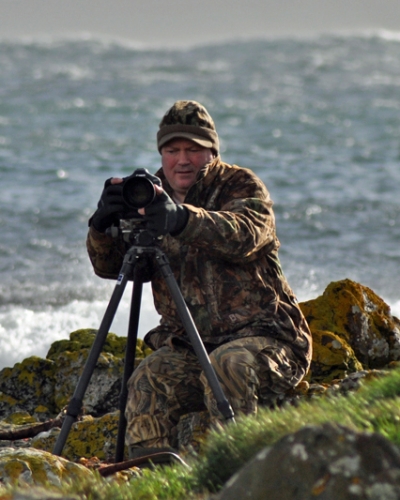 Facebook
Northcoast Nature is run by wildlife and landscape photographer and Rathlin resident Tom McDonnell (Ph: 2076 0080/077 2308 7668). Tom offers photography workshops, with opportunities to photograph Rathlin's stunning land and seascapes, seabirds, birds of prey, seals and maybe even the very rare Rathlin golden hare. His photographs are available in the Breakwater Studio on the island and several outlets in Ballycastle.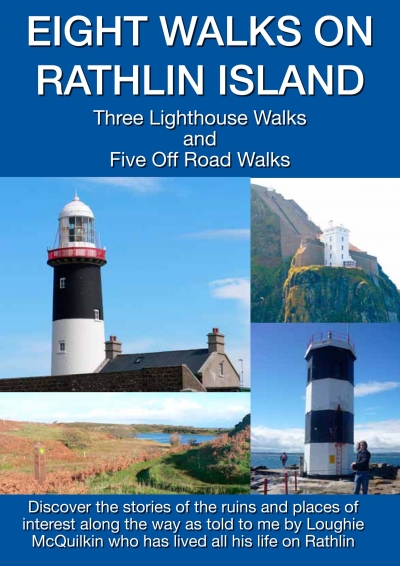 An up to date walking booklet for eight fabulous walks on Rathlin Island.
This detailed guide with photos of every stage of the walks points out the ruins and places of interest along the way giving a brief account of events that happened there.
These booklets are available in Island Treasures giftshop, the Boathouse Visitor Centre and Breakwater Studio on the island, and in the Ferry Office, the Tourist Information Centre and McLister's newsagents in Ballycastle, or can be bought direct from the author Nicky Sebastian (028 2076 0028 / islandnicky@aol.com). More information here.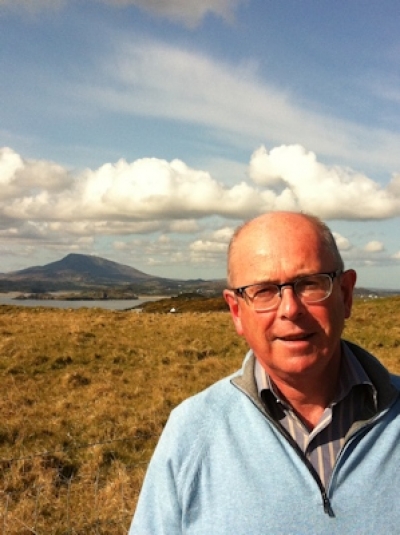 Facebook
Organised walks on the island are a popular option and walking tours by Paul Quinn (Ph: 077 4556 6924) are available.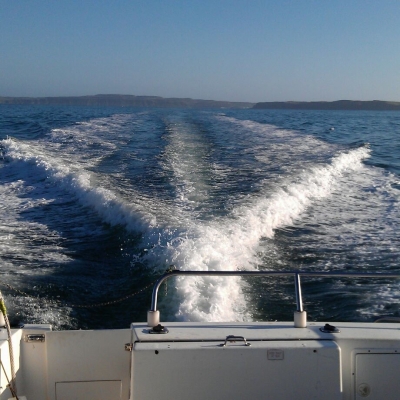 Facebook
We operate out of Rathlin Island Harbour on the rugged coast of county Antrim offering a year round commercial charter service. We specialise in wildlife expeditions, support vessel roles, and access to the Scottish islands.
From the start of summer we run daily trips to the seabird colony at the West Lighthouse on Rathlin. Expect to see tens of thousands of visiting birds up close including puffins, razorbills and guillemots.
We also offer charter runs to many other pickup locations and fishing trips/days out to Rathlin. Our vessel is Coded Category 3, MCA/YDSA approved. Insured and professionally staffed. Licensed to carry 12 passengers with a cruise speed of 18 knots.
Pricing examples:
Bird colony trip from Rathlin harbour/1 hour trip
£10 per person
Rathlin-Ballycastle return
£15 per person
Round Rathlin Trip from Ballycastle
£30 per person
Ballycastle-Port Ellen (Islay) return
£60 per person
Nb. Min 6 Person per trip. Bare boat charter available please give us a ring for pricing and we will try and work out the best deal for you. (Ph: 075 4382 6820).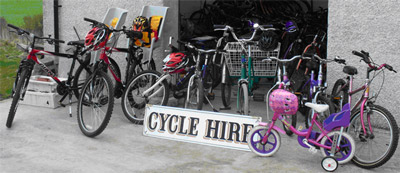 There is a a bicycle hire company on the island run from Soerneog View Hostel (Ph: 028 2076 3954).
Soerneog View Hostel is closed for the 2018 season for health reasons. The bicycle hire is operating on a part time basis, from 5th May 2018, contact john_jennifer@btinternet.com to arrange suitable dates.
Bicycles can also be brought over by ferry (booking very advisable) - on both the MV Spirit Of Rathlin and the MV Rathlin Express for £3.30 return.
Buses
Two private companies run minibuses to and from the RSPB Seabird Centre, operating from the harbour during the season, picking people up off the incoming ferries in the morning - £5 return for adults, £3 for children. The journey takes about 20 minutes each way, and the bus companies usually leave passengers at the Seabird Centre for about an hour. If you would like to walk one of the ways, you might want to consider getting the bus up to the Centre, and walking the return leg. For further information contact Bertie Currie (07740586898) or Francis McGinn (07752861788/07759935192).
Facebook
The West Light Seabird Centre is closed for the 2017/18 winter season, and will reopen on Saturday 24th March 2018.
Opening times: 24 March - 30 April; 11.00am-4.00pm, 1 May to 31 August; 10.00am-5.00pm, 1 to 16 September; 11.00am-4.00pm. Last admission one hour before closure. Admission (payable on arrival): RSPB members and under 5s free. Adults £5.00, children £2.50. Family and group rates available. For more information call 028 2076 0062.
The Rathlin West Light Seabird Centre, run by RSPB Northern Ireland, underwent major refurbishment work in 2015/16 and has now fully re-opened to the public. The work has been made possible by a significant investment from the Commissioners of Irish Lights of over £600,000 thanks to funding from the European Union's INTERREG IVA cross-border Programme, managed by the Special EU Programmes Body.
Along with 11 other lighthouses around the Irish coast, Rathlin West Light is one of the Great Lighthouses of Ireland (GLOI), all of which will offer unforgettable experiences and create a deep appreciation of the role of lighthouses and the maritime and seafaring story of the island of Ireland.
The refurbishment has seen a complete upgrade of the visitor centre and, for the first time, it is now possible to access the 'upside down' lighthouse built on Rathlin's cliffs.
In summer, the seabird colony is a real assault on the senses – the sight, sound (and smell!) of tens of thousands of birds, including puffins, razorbills, guillemots, kittiwakes and fulmars jostling for space is like nothing else.
These birds spend most of their lives at sea, and only visit sites like Rathlin for the brief summer breeding season. The seabirds start leaving the island to head back to sea from mid-July, with razorbills and guillemots going first, followed quickly by the puffins. The kittiwakes and fulmars will remain for most of August. The birds will start returning to Rathlin from March onwards.
The lighthouse situated at the heart of the colony is a spectacular feat of engineering, clinging to the cliff face with the lantern gleaming red at its foot. It offers visitors a chance to explore this unique, yet fully operational 'upside-down' lighthouse, its history, its people and the role of Irish Lights in maritime safety today.
The Rathlin West Light Seabird Centre is situated four and a half miles from the harbour - roughly a 90 minute walk. There are also buses running from the harbour and bicycles available for hire.
Admission is free for RSPB members, £5 for adults and £2.50 for children and other concessions. RSPB NI staff and volunteers are on hand to welcome visitors and binoculars and telescopes are provided for visitors' use free of charge.
Please note that while the main visitor centre is accessible, there is an 89 step descent to the viewing platform, or 164 steps in total to the bottom of the lighthouse.
Dogs (except for guide and assistance dogs) are not allowed in the Seabird Centre and Lighthouse. There are facilities to tie dogs up outside the Visitor Centre.
For more information about the Seabird Centre visit www.rspb.org.uk/rathlinisland or head to www.greatlighthouses.com to find out more about the Great Lighthouses of Ireland trail.