Brown Bins for Rathlin
Wednesday 20 June 2018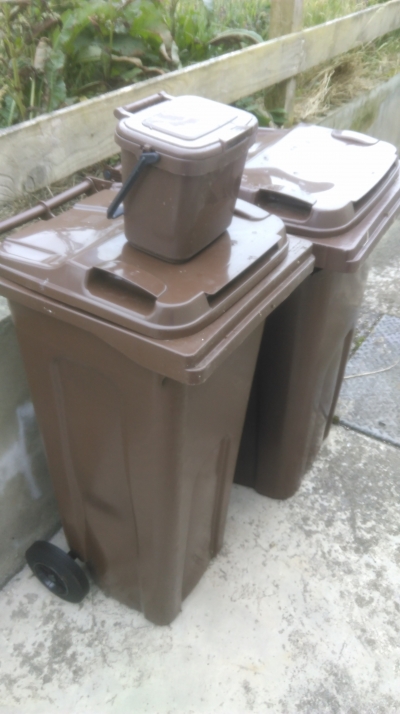 In July 2018 every household on Rathlin will receive a 240 or 140 litre brown bin and a 5 litre recycling caddy enabling you to participate in the Council's fortnightly food and garden waste recycling collection service. (Samples of the bins and the caddy are at the Resource Centre.) Each household will receive the larger bin unless they specify that they wish to receive the smaller one – please notify the Council if you do not want the larger bin.
You can start putting food and garden waste in your brown bin once you receive it. A sticker will be placed on your brown bin specifying when the first collection will take place. When you receive your brown bin, you should no longer put food waste in your black bin. A "No food waste please" sticker will be placed on your black bin advising of this change.
Inside the food recycling caddy will be an introductory letter explaining the new service, and an information leaflet and three rolls of compostable liners (about one year's supply). Each roll has 50 liners. Compostable liners can be got free of charge at council household recycling centres and depots.
The brown bin collection service for food and garden waste recycling is an all year round service.
Food waste that can be recycled:
Dairy, including eggs & cheese
Tea bags & coffee grounds
Fruit & vegetables, raw & cooked
Meat & fish, raw and cooked, including bones
Rice, pasta & beans
Bread cakes & pastries
Uneaten food from your plates
Items that can't be recycled:
Liquids
Oil or liquid fat
Plastic bags (only use the fully compostable liners)
Any material that is not food waste
Packaging of any sort
Animal faeces
Garden waste that can be recycled:
Lawn cuttings & garden waste
Tree & hedge cuttings & prunings
Flowers, garden plants & weeds
Leaves, twigs, branches & bark
Items that can't be recycled:
Soil & sods
Hardcore & rubble
General household waste
Plant pots
Animal faeces
All food and garden waste which goes in the brown bin will be diverted from landfill and instead converted into compost.
If you have any questions regarding this upcoming service please email foodsmart@causewaycoastandglens.gov.uk or ask to speak to a member of the Council's environmental resource team on 028 2766 0248.
More information is also available on the Council's website.