The Gruffalo visits Rathlin Island
Friday 29 April 2016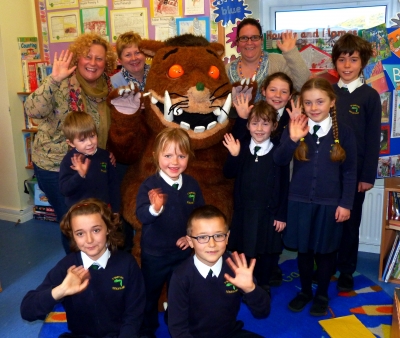 Rathlin residents received a special visit from the Gruffalo last week. His first island appearance was in St Mary's Primary School where eight very surprised pupils gave him a warm and enthusiastic welcome. He seemed to be as big a hit with the teaching staff as with the children.
Rathlin is planning their sixth annual Big Lunch day and won the visit from the Eden Project, who, with Lottery funding, encourage neighbours far and wide to host a Big Lunch get together annually in June as an act of community friendship.
"I love our Big Lunch, its lovely when everyone comes down to the sea front with a dish to share and we have the BBQ going and lovely music," said Julie Ann McMullan, island resident and classroom assistant. "Rathlin is a fantastic community to be part of and we love it when people join in with our Big Lunch to enjoy food and friendship and a taste of Rathlin island community spirit."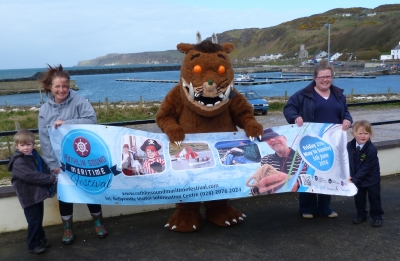 Rathlin's Big Lunch has become a popular part of the annual Rathlin Sound Maritime Festival. The Festival, organised by the island and Ballycastle communities with the support of the Council, is a packed celebration of the maritime history and culture of this coastal region. Including traditional boats and boat races, exhibitions, films, lots of music and stories, the Festival is now in its fourth year and receives funding from Tourism NI.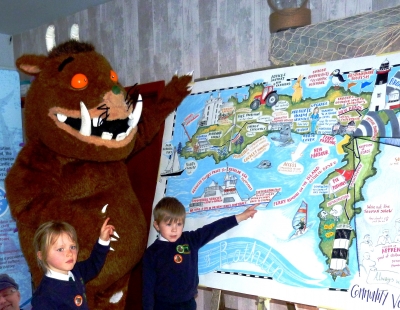 After the visit to the school, two of the children took the Gruffalo on a short tour of the island. The first stop was to see a beautiful art work recording a recent community consultation.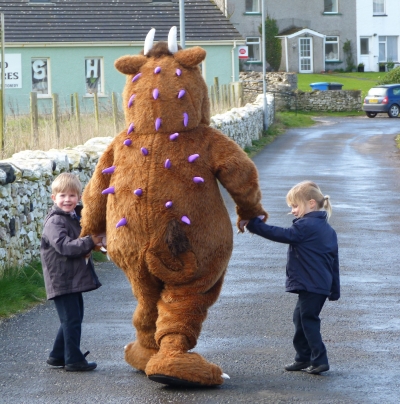 The children then jogged and skipped down the road with him to the Boathouse Visitor Centre where he saw an exhibition of island history and life-size models of Great Auks from a previous school project.
During a quick visit to see the island nurse, the Rathlin Co-op shop and the ongoing refurbishment of the Manor House Guest Inn, the Gruffalo was sought out by some of the island's youngest toddlers and their parents, posing for photos along the way.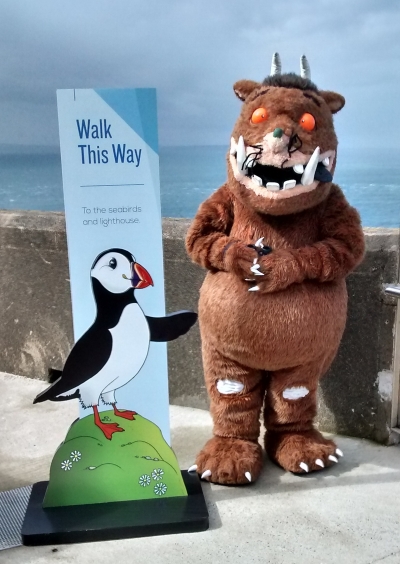 After a look at the harbour and the ferries, the Gruffalo then had time to squeeze in a very hasty visit to the West Light Seabird Centre and Lighthouse before travelling back to Ballycastle to continue his busy schedule.
Free Big Lunch packs are available from www.thebiglunch.com packs and include Gruffalo stickers, seeds and ideas so why not bring some added community friendship to your street this summer! And come along to the Rathlin Sound Maritime Festival (27th May – 5th June) with something to share for a Big Lunch in Ballycastle or on Rathlin. More information www.rathlinsoundmaritimefestival.com