Ministerial Forum 2018
Monday 19 November 2018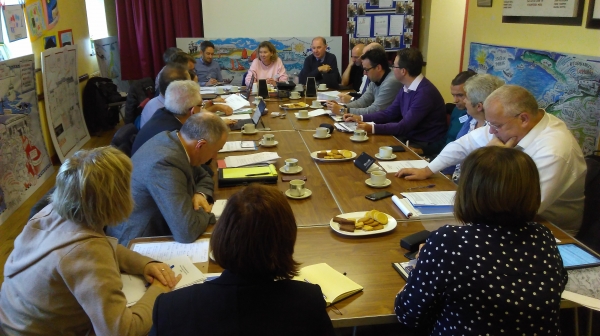 The annual Rathlin Ministerial Forum was held in the Parochial Hall on Wednesday 24th October. The Ministerial Forum, set up under the Rathlin Policy, is a crucial opportunity for the RDCA Committee to meet with senior civil servants (and Ministers when they are in office) to progress and manage the Rathlin Action Plan.
This year's Forum was attended by two Departmental Permanent Secretaries – Katrina Godfrey of the Department for Infrastructure, who chaired the event, and Sue Gray of the Department of Finance, along with several senior colleagues from other Executive departments as well as Causeway Coast and Glens Borough Council.
The agenda included an introductory discussion to the unique Rathlin Island Policy for the benefit of new attendees and updates on the last year, including the potential development of the East Light. The use of participatory budgeting for the "Grugach's Gold" process was highlighted at the meeting, as was the community's use of visual minutes over the last number of years.
The meeting recognised the strengths and aspirations of the community as a strong foundation on which to build, and explored ways by which departments could better collaborate with the community and each other to achieve joint aims of mutual benefit. One of the outcomes of this year's Forum was that a creative team – the Innovation Lab – will come to Rathlin before Christmas to explore some of the key issues in the Action Plan.
The RDCA Committee would like to thank everyone who took the time to come to the Forum, for a very encouraging meeting and for their continued commitment to the island's sustainable development.