Royal Visit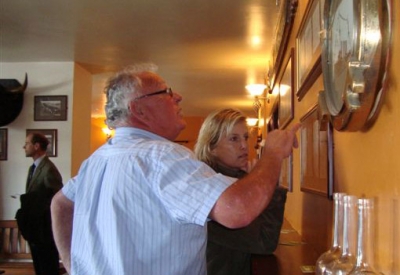 Wednesday 9 June 2010
The Rathlin Development and Community Association Committee, on behalf of the Island residents, would like to acknowledge today's visit to the Island of the Earl and Countess of Wessex, Prince Edward and Sophie.
They were warmly welcomed onto the Island by RDCA Committee Chair, Noel McCurdy, who along with Committee member Marianne Green escorted the couple to McCuaig's Bar. Along the way the Royal couple were met and welcomed by many Islanders.
At the Rathlin Bar they were met by Peter and Catherine McCurdy who then escorted the Royal couple to a 'welcome lunch' and to meet invited guests from the public and voluntary sector.
After lunch the party visited the local Primary School, the RSPB Seabird Centre and the Island's Boathouse Visitor Centre.
An opportunity was then available for the Royal couple to meet more of the Island's population.
This visit enabled the Islanders to show the Royal couple the beauty of Rathlin and the couple were then waved off in traditional Rathlin fashion as they left on the Rathlin Express.
The RDCA Committee would like to express thanks to the staff of Moyle District Council who liaised with the Northern Ireland Office in organising this visit, and also to all those on the Island who helped make this visit such a positive and welcomed occasion.
---