Alley Cup, Easter Sunday 2012

Marina McMullan presents first prize to Fergus McFaul & Tania Calvert
Tuesday 10 April 2012
There was another very good turnout of competitors and spectators for the first race of the 2012 season proper, the Alley Cup on Easter Sunday.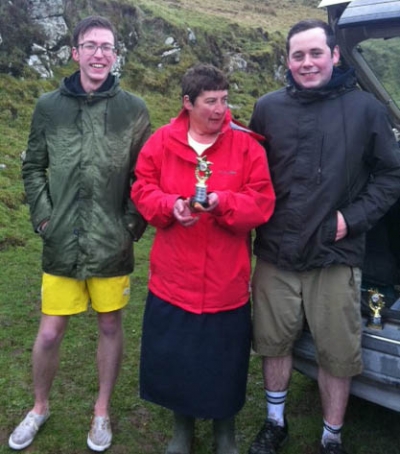 Marina presents second prize to Daniel O'Brien (R) & Robin Saltman (L)
The weather was wet and cold with a westerly wind, and seven boats were put into the race. First place in a very tight finish went to Fergus McFaul and Tania Calvert, second to Daniel O'Brien and Robin Saltman, with third going to Brian Teggart.

Marina presents third prize to Brian Teggart
With just one race gone, this puts Fergus into the lead with three points, with Daniel on two, and Brian on one - early days yet though! Many thanks to everyone who braved the weather, and to Marina as ever for all her work behind the scenes and on the day. The next race is the Marconi Shield, to be held on Sunday 6th May at 2.00.