Coleraine Cup Model Yacht Race
Wednesday 6 June 2012
After being postponed for a week because of very calm weather, the Coleraine Cup was held last Sunday evening. The weather was fine, with just enough of a breeze to race, and five boats were entered.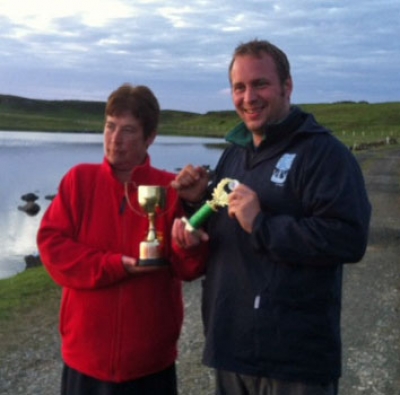 Marina McMullan presents first prize to Fergus
Congratulations again to Fergus McFaul who took first prize, continuing his very strong start to the season.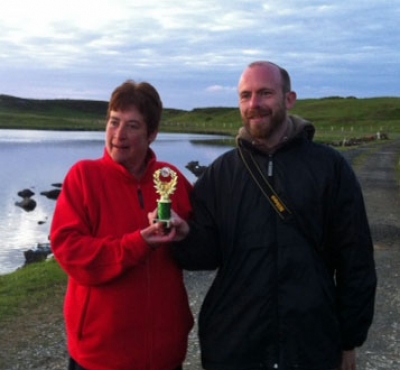 Marina presents second prize to Brian
Second place was taken by Brian Teggart, also continuing a very consistent season so far.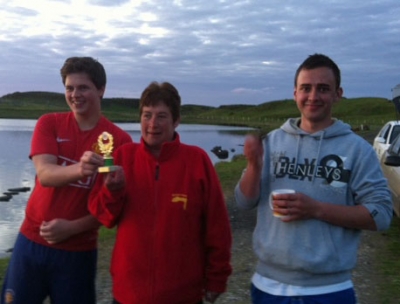 Marina presents third prize to Cathal (R) and Connor
After both Cathal and Stephen's boats ended up on the island, it was decided once they were recovered that they should be raced back to the road, with the first over claiming third place (Connor's boat did not finish), and Cathal's boat claimed the placing.
After this third race the season is beginning to settle into shape, with Fergus taking a clear lead, but with a lot of racing still to be done, the season remains highly competitive. The standings now are:
Fergus: 8 points (3 points Coleraine Cup + 2 points Marconi Shield + 3 points Alley Cup)
Brian: 4 points (2 points Coleraine Cup + 1 point Marconi Shield + 1 point Alley Cup)
Stephen: 3 points (3 points Marconi Shield)
Daniel: 2 points (2 points Alley Cup)
Cathal: 1 point (1 point Coleraine Cup)
Many thanks as ever to Marina for all her hard work, and to everyone who continues to support the races. The next race is the Paddy O'Donnell Cup on Saturday 23rd June at 6.00.