Launch of New Social Housing Development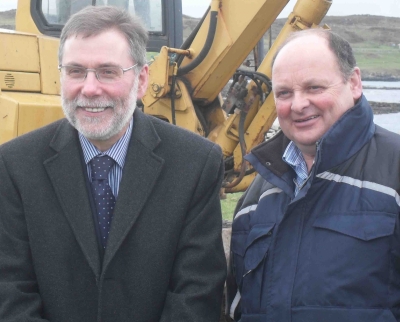 Minister Nelson McCausland MLA with RDCA Chair Noel McCurdy
Tuesday 3 April 2012
The Minister for Social Development, Minister Nelson McCausland MLA formally launched Rathlin's new social housing development on Monday 2nd April.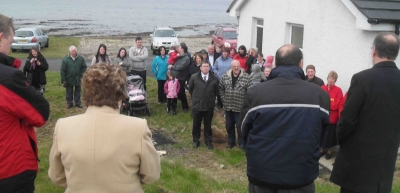 The event was very well attended by the island community, as well as by representatives from the Department of Social Development, the Northern Ireland Housing Executive and Apex Housing Association.
The development, sited behind us here in the Resource Centre, will now include ten houses - seven three-bed and three two-bed. It is strongly believed on the island that such a housing development is essential to securing the future for a vibrant community on Rathlin, and also the future of the island as a unique tourism resource for Northern Ireland.
Minister McCausland said "Rathlin is Northern Ireland's only inhabited offshore Island and is therefore a unique asset. These homes will help protect the future of the island and ensure that it remains a permanent residential community for generations to come. I am pleased to play my part in safeguarding the future of the island".
Noel McCurdy, Chair of the RDCA Committee added that "affordable housing is very limited here and this vital scheme will provide opportunity for young islanders and new Rathlin families to remain in the community and be a part of its future. We are delighted that the Department for Social Development and the Northern Ireland Housing Executive are able to support the community in this practical way".