Ministerial Forum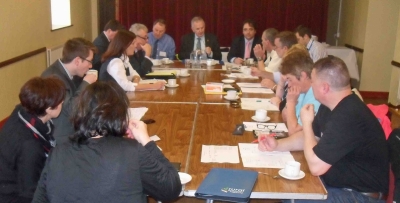 Friday 26 October 2012
The Minister for Regional Development, Danny Kennedy MLA visited the island on 24 October, along with representatives from several government departments and Moyle District Council for the latest Ministerial Forum.
The Ministerial Forum was set up to monitor Stormont's Rathlin Island Policy, and allows the island community to engage with the key bodies involved in the process.
On his visit, Danny Kennedy was welcomed on arrival by the Chair of the RDCA, Michael Cecil. The Minister said: "I fully support the Executive's policy to improve the conditions of all people on our only inhabited off-shore island while also protecting its natural and cultural heritage."
"Chairing the Minister's Forum meeting which monitors progress against the Rathlin Island Action Plan has given me the opportunity to see for myself the ongoing progress being made to improve conditions for islanders. I look forward to working with Islanders and other interested parties on the review of the Rathlin Island Action Plan which I am pleased to see is nearing completion. Our joint efforts will help ensure the sustainability of island life and the promotion of a vibrant island community."